Downloads
XF1 PRO

XF1 SPORT-USB

XF1 SPORT

DDU800

MANUAL v1.0
MANUAL v1.0
MANUAL v1.3
MANUAL v1.1
Firmware v15
Firmware_v12

Firmware v10

Firmware v15 changes:

Added compatibility with XS9 Dongle
Improved Hall sensor accuracy when USB power is insufficient

*Note: The latest v15 firmware can only run with Simbridge v1.5.2 and above.

Firmware v12 changes:

Added compatibility with XS9 Dongle
Optimized screen FPS stability
Enhanced screen smoothness

*Note: The latest v12 firmware can only run with Simbridge v1.5.2 and above.
SimBridge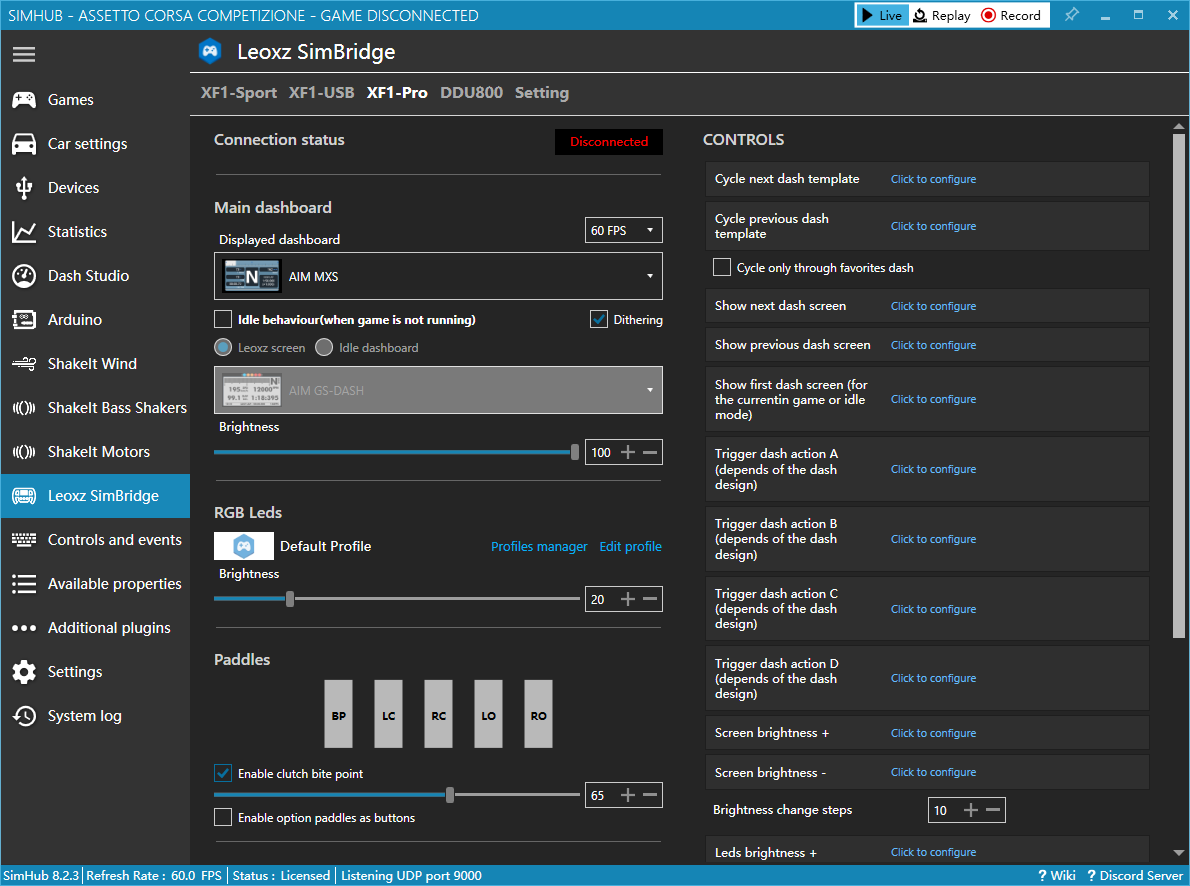 *Note:
Version 1.5.0 and above of SimBridge must run within SimHub version 9 or later. Please ensure that you are using the latest version of SimHub(v9.1.8).
SimHub cannot be directly connected to Leoxz devices, it is necessary to transmit the telemetry data of SimHub to the steering wheel through SimBridge.
Recent changes
1.5.4-1.5.5 – 10/10/2023
Improve the stability of Simbridge.
1.5.3 – 23/09/2023
Compatible with XF1 Pro v15 and XF1 Sport-USB v12 firmware.

Fixed the issue that could lead to update errors when using an external USB HUB for firmware updates.
1.5.1 – 11/09/2023
Fixed the bug preventing dashboard saving in XF1 Pro and DDU800 pages.
1.5.0 – 31/08/2023
Added SimHub v9 compatibility.
1.4.1 – 27/03/2023
Fixed character error for ui.
1.4.0 – 22/03/2023
SimBridge underlying program has been rewritten, solving the delay issue caused by potential process competition.
The XF1 Sport page has added BLE adapter status display to determine whether the Bluetooth adapter supports BLE functionality.
Added Pit dashboard display switch for XF1 Sport.
XF1 Sport has added LED customization function, which can separately configure rpm LEDs(One-color), status LEDs(Two-color), and flag LEDs(Seven-color).
Added support for XF1 Sport-USB hardware.
Added support for DDU800 hardware.
Added support for XF1 Pro hardware, including full Simhub dashboard and led support.

The dashboard supports 30 and 60 FPS display (60 FPS will occupy more CPU than 30 FPS).

Dithering option is used to control the screen dithering operation to obtain better display effect.

Added Clutch paddles and Option paddles mode switching options.

Added bite point value setting option.

Added encoder pulse width setting option.

Complete Simhub Controls support, which can not only control the screen and led but also be used to control

paddles mode and bite point value.

Added independent hardware switch, which can turn off hardware pages that are not needed.
Added hardware firmware version display.
Added SimBridge and firmware update check.
1.3.0 – 04/02/2023
Improved compatibility with USB connections.
Fixed some game telemetry data bugs causing incorrect screen values.
1.2.6 – 28/12/2022
Improved compatibility with USB connections.
Updated some UI
Fixed a bug that caused Simhub to exit abnormally.
Fixed bluetooth disconnecting when switching games.
Fixed Rpm blue light not working.
Fixed some UI bugs of dashboards.
1.2.0 – 08/11/2022
Rpm lights support setting via Simhub-Car settings.
Improve the transfer rate of usb dashboard data.
More Simhub style UI.
1.1.0 – 26/09/2022 -
Improved stability
Fixed telemetry errors in some games.
Fixed some errors in the BLE protocol and reduced wireless latency.
Fixed Bluetooth may not reconnect after disconnection.
Rewrite the USB communication module, improve the stability of the USB connection and reduce the delay.
Fixed the problem that Simhub will freeze when QR Input is enabled in USB mode.
Modify the Pit Limiter dashboard to only start when the speed limiter is turned on.
Fixed an update bug that could result from connecting Bluetooth and USB at the same time.
Fixed update function library missing.
1.0.0 – 30/08/2022 – Official release
Leoxz has released the official version of SimBridge, once you encounter any problem, please submit it via support@leoxz.com or leave a message. We will fix it as soon as possible and launch an updated version.