FAQ
*Reminder:
If the following answers cannot solve your problem, please consult the website distributor where you purchased the product.
If you need official support, please send the product model, purchase source, purchase time, detailed problem description, video, and/or pictures to support@leoxz.com, so that our technical staff can better understand the issue. And we will reply as soon as we receive the email!
If you need to inquire about purchasing, please also let us know the country you are located in when contacting sale@leoxz.com, and we will recommend suitable distributors for you.
1 .
Does the steering wheel support wired or wireless connections?
The steering wheel supports a wired connection to the computer via USB and a wireless connection to the computer via Bluetooth. We use Bluetooth solutions compatible with BLE4.0, BLE4.2, BLE5.0, so it can provide very low latency. We recommend using only one connection at a time, not USB and Bluetooth at the same time, to minimize the load on the MCU of XF1.
2 .
Can I display dashboards through SimHub Dash Studio

?

If you use the XF1 Sport wheel, this will not be possible because it uses the built-in dashboards and cannot transmit the dashboards UI via USB or BLE.
3 . What software are XF1 compatible with?
Telemetry data can only be obtained by using SimHub, which is currently the best software for this application, with strong compatibility and you need to use SimBridge to transfer the data from SimHub to the steering wheel, all this can be done with a simple configuration.
4 . What hardware is the XF1 compatible with?
XF1 provides standard steering wheel adapter hole spacing of 70mm, so you can match almost all brands of bases by matching different adapters.
5 . Can XF1 be used with Fanatec's base

?

Yes, the XF1 has a Fanatec and Thrumaster data interface at the adapter interface position, so it can power and data transfer directly from the Fanatec and Thrumaster bases The telemetry data of the screen can only be communicated with the computer via Bluetooth, which is the best method because you can get SimHub support.

It should be noted that Fanatec uses a complex communication protocol to connect with the steering wheel, there may be a problem that your base is not compatible with XF1 Sport wheel. If you encounter this problem, please send your base model and firmware version to support@leoxz.com, we will solve it for you as soon as possible.
6 . The BlueTooth adapter doesn't work with the dashboard of XF1 Sport

?

Bluetooth not working can happen in places full of EMI interference or when encountering incompatible Bluetooth adapters.

We found that if the 2.4g device is too close to the steering wheel, the wireless transmission of the steering wheel may be delayed or disconnected. Placing the 4-antenna wifi transmitter about 30cm away from the steering wheel antenna may cause a delay of more than 1 second in the Bluetooth transmission, so we strongly recommend that you keep the steering wheel away from 2.4g high-power devices as much as possible.

Another possibility is that you have an incompatible Bluetooth adapter. XF1 Sport uses the BLE low-latency solution. To determine whether your Bluetooth adapter supports BLE, you can simply check whether there is a Microsoft Bluetooth LE Enumerator.
Turn on your Bluetooth

for your Windows 10 computer
Press Windows + X

to open the Start Menu.
Select Device Manager.
Select Bluetooth from the sidebar on the left. This will expand to show Bluetooth drivers.
If there is a driver named Microsoft Bluetooth LE Enumerator

then your Windows 10 computer supports Bluetooth Low Energy.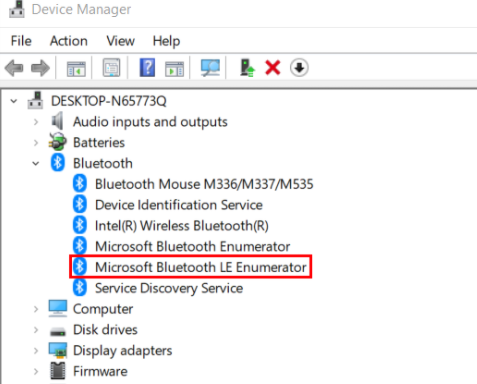 7 . The axis input of XF1 Sport cannot reach 0 or 100

?

Please press and hold button 1 and button 13 at the same time as shown in the figure below, wait for the Flag light to flash green, then turn all the paddles to the maximum position at the same time and release, the joystick moves to the maximum and minimum along the XY axis, short press button 1 and Button 13 saves the settings.

Note that once you enter calibration mode make sure all paddles and joystick are calibrated. Because calibration mode resets all paddles and joystick.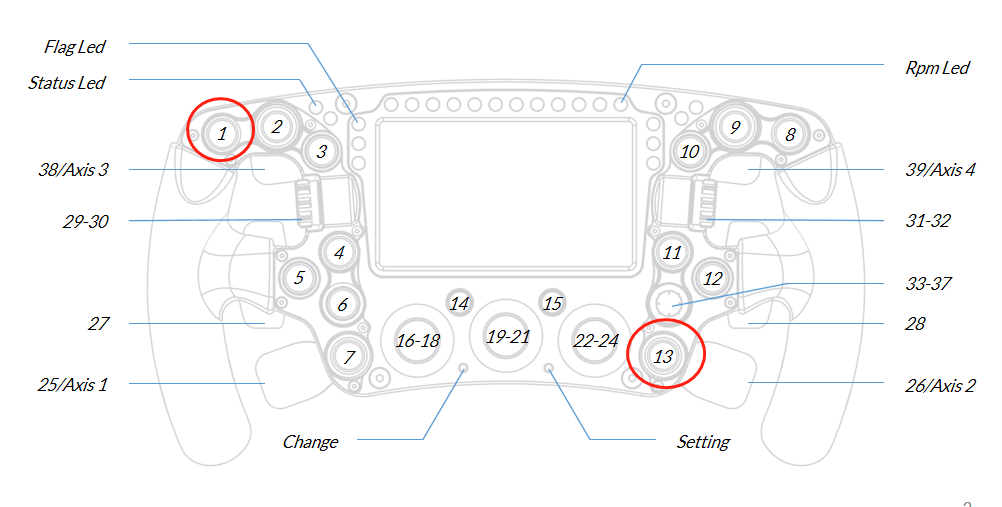 8 . where can I buy Leoxz authentic?
On the Leoxz official website or the official authorized dealer stores of Leoxz in all regions of the world.
If you need to consult a product question, please consult customer service at the original store where you purchased the product, and we will help you deal with it as soon as possible. Please see the following policies for details: Warranty, Returns and Refunds, other .
9 . How long do I have to wait for my order?
Under normal circumstances, we will have sufficient inventory to ensure that we can deliver the goods to you as soon as possible. The general delivery time is 7-10 days (the specific delivery time depends on your region, regional policies, force majeure, etc.).It is strongly recommended that you buy from our distributors so that you can get the same professional and timely service and after-sales service, and you can get the product faster
10. Where to find out about new upcoming products?
We are always planning more products, events, and partnerships to meet your needs. To be the first to know what's coming, subscribe to our newsletter or follow us on social media, which are at the bottom of the page.
11 . When will there be promotions?
We're always working on more products and activities that meet your real needs and preferences. To be the first to know what's coming, subscribe to our newsletter or follow us on social media at the bottom of the page.
12. Do you offer partnership opportunities?
Yes, we do. We welcome powerful partners, including but not limited to: distributors, sponsors, brand partners, professional testers, and team partners.
13 . Can you send me samples?
We are happy to meet potential customers and show you our products. If necessary, please click here or inform us by email at support@leoxz.com, we will reply to you in time.
14 . How do we discuss and communicate?
We always open our doors and welcome racing enthusiasts from all over the world to discuss and communicate with us, through Message, Facebook, Instagram,Pinterest, Twitter, Email. Whether it is about racing, about our products, or anything else , we always believe that communication is the inspiration for our innovation, we are always exploring the products and services you need and love most.